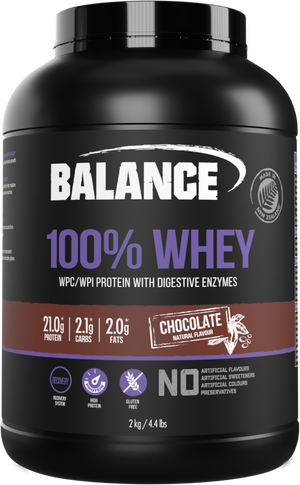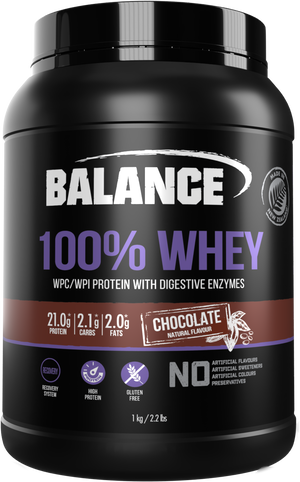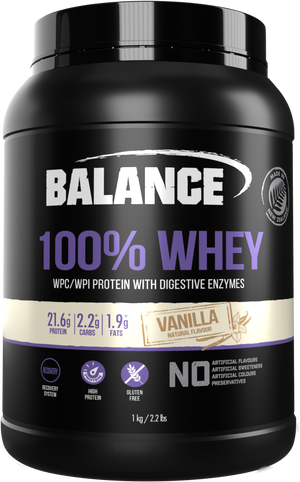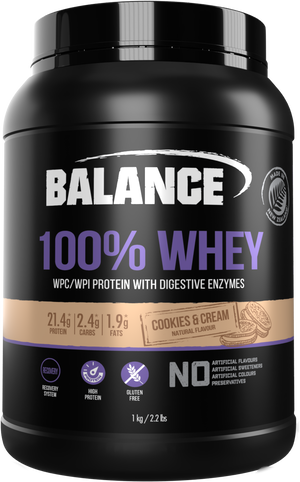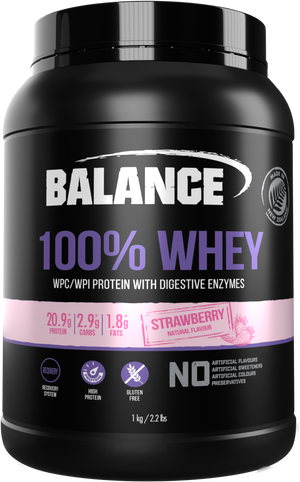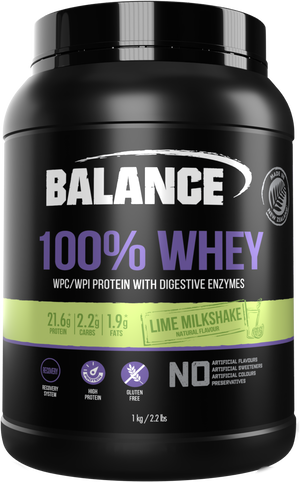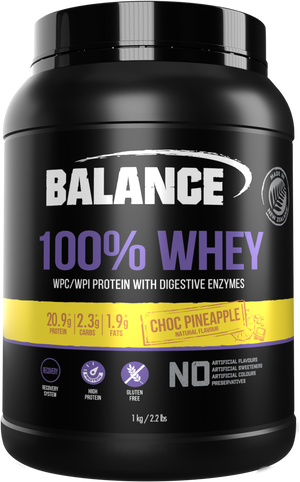 21g Protein | 2.1g Carbs | 2.0g Fats

WPC/WPI Protein with Digestive Enzymes
 ALWAYS READ THE LABEL. USE ONLY AS DIRECTED.
Balance 100% Whey is a high protein, gluten free blend with added digestive enzymes. It contains New Zealand sourced whey protein concentrate and whey protein isolate. The whey proteins have been produced by ultra-filtration to retain their natural state helping you meet the heavy demands of training. Whether your priority is building lean muscle, improving recovery or both, this superior tasting protein blend is scientifically developed to enhance your sports nutrition needs.
Benefits
Low Carb formula
High in protein to support lean muscle growth & repair
Gluten Free - this product is tested by an independent laboratory and contains no detectable gluten
No artificial flavours, colours, sweeteners or preservatives
Branched Chain Amino Acids to replace those lost during intense exercise

Digestive enzymes sourced from pineapple and papaya
Who, When and How?
Who
Weight-training individuals and body builders, tri- and team sports competitors, weight and carb conscious individuals.
When
Use 60-90 minutes prior to exercise and within 30 minutes after exercise.

How
Add 28g (approx. 1 level scoop) to 200mL of water. Shake or blend until mixed and serve. May also be added to other foods to increase protein content. For a low carb drink, mix with water.
Consume up to 3 serves a day.

Ingredients
100% Whey Chocolate flavour: Balance Protein Blend (92%) [Whey Protein Concentrate, Whey Protein Isolate, Emulsifiers (Sunflower Lecithin, Soy Lecithin)], Cocoa Powder, Natural Flavours, Thickeners (Sodium Carboxymethylcellulose, Xanthan Gum), Digestive Enzymes (0.4%) (Bromelain, Papain), Salt, Natural Sweeteners (Thaumatin, Steviol Glycosides).

Contains: Milk & Soy products.
Nutrition Information
100% Whey Chocolate Flavour
Servings per pack: 35 (1 kg), 71 (2 kg)

Serving size:  28g

 

Avg Quantity per Serving*

Avg Quantity per 100g

Energy

471kJ (113Cal)

1680kJ (402Cal)

Protein, total

21.0g

74.8g

 - gluten

Nil detected

Nil detected

Fat, total

2.0g

7.1g

- saturated

1.4g

4.9g

Carbohydrate

2.1g

7.5g

- sugars

1.6g

5.7g

Dietary fibre

0.7g

2.4g

Sodium

70mg

251mg

Branched Chain Amino Acids (Naturally Occurring)

Leucine

2.1g

7.7g

Isoleucine

1.3g

4.7g

Valine

1.2g

4.3g

Other Essential Amino Acids (Naturally Occurring)

Lysine

1.8g

6.3g

Methionine

0.5g

1.7g

Phenylalanine

0.7g

2.4g

Threonine

1.4g

5.0g

Tryptophan

0.4g

1.4g

Histidine

0.4g

1.4g

Other Amino Acids (Naturally Occurring)

Alanine

1.0g

3.6g

Glycine

0.4g

1.4g

Proline

1.2g

4.4g

Cystine

0.5g

1.9g

Tyrosine

0.7g

2.4g

Serine

1.0g

3.7g

Aspartic Acid

2.2g

7.7g

Glutamic Acid

3.5g

12.5g

Arginine

0.5g

1.9g
*Per serve when prepared with water
FORMULATED SUPPLEMENTARY SPORTS FOOD.
Made in New Zealand from local & imported ingredients.